السَّلاَمُ عَلَيْكُمْ وَرَحْمَةُ اللهِ وَبَرَكَاتُه,

Bercakap pasal craft ni, saya pun sendiri pening kepala nak come out dengan idea gila buat DIY. DIY iaitu short form daripada Do It Yourself memerlukan tahap kekreatifan tahap gaban la utk seseorang tu mendeco dan memikirkan cara-cara untuk save budget drp bahan2x yang I can so called say.. Murah! One of the thing yang sangat banyak kegunaan dia dan sangat membantu bagi B2B untuk DIY ini adalah... DOILY PAPER.

Mungkin some of us ada yang tak tau pun ape itu doily paper. Yes. That's me! Several months ago. hehehee. (Tapi sekarang dah tau ok!). Search punya search.. (nasib saya ni jenis takde keje, dating ngn Mr. Google.). So saya terjumpa la 1 website yg memang menjual doily paper dengan harga yang murah which is....


Mula2x saya ingat doily paper ni kaler putih je.. Rupanya banyak gila kaler. Memang boleh ikut tema korang SANGAT! Jom check it out: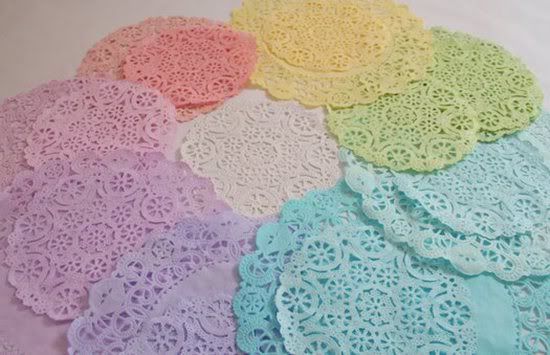 Kalau ikut yang
AR WARNA WARNI
ni dia jual mengikut size. Ni beberapa quotation utk doily paper:
3.5 inch, RM3.00 / 100 pcs
4.5 inch, RM3.50 / 100 pcs
5.5 inch, RM4.00 / 100 pcs
Tentu ade setengah tertanya2x.. Menatang ape doily paper ni. Nak buat ape. Haaaaaa... Check this out. Banyak kegunaannya tau:
1. Sampul surat by doily paper. Mak aih. Cantik gila
2. Boleh juga untuk ganti flower ball kan?
3. Boleh juga dijadikan medium for centerpieces?
4. Deco Jar?
5. Hiasan Goodie Bag
Menarik bukan? Saya pun nak beli juga.. Untuk Goodie Bag, Centerpieces and Botol Jar! :)