السَّلاَمُ عَلَيْكُمْ وَرَحْمَةُ اللهِ وَبَرَكَاتُه,


Ohmy! Headache!
Tapi alhamdulillah.. Banyak jugak benda yang dah buat.. Lega jugak. Alhamdulillah.. Nanti lah saya buat checklist.. Mungkin boleh membantu B2B yang lain kan.. InsyaAllah..

Ok.. berbalik pada wedding.. I guess, semua orang akn sibuk when it comes to a "wedding". Saya pun sama. Bila dah start engine tu, memang dah takde brek2x dah. Belasah je..

Kalau ikutkan, kami plan buat di rumah. Saya sendiri pn mmg nak buat dirumah.. sebab saya dah siap ada perancangan sendiri.. Susah la.. kalau kat dewan kena book la ape la.. so malas nk amik port sangat sbb memang dah nak stick pada that tarikh.. 1 september 2012..

Tapi sebabkan kena amik catering asing, khemah asing, and ibu pula banyak tu tak boleh, ni tak boleh, so saya rasa macam susah sangat when it comes to too many decisions.. and too many talks.. so I just called Dvillage Resort utk tanya quotation. sebab hospital pernah buat majlis dinner disana and makanan, ballroom, superb.

So I went there after a slight discussion with mom, she seems agreed to proceed with the dewan. so that semua org tak penat nak mengemas rumah. Tanya quotation.. dapat RM25 per pax. Tapi bukan makan shj la, ade adds on lain..

Ni contoh d village. Bagi overview je gambar depan.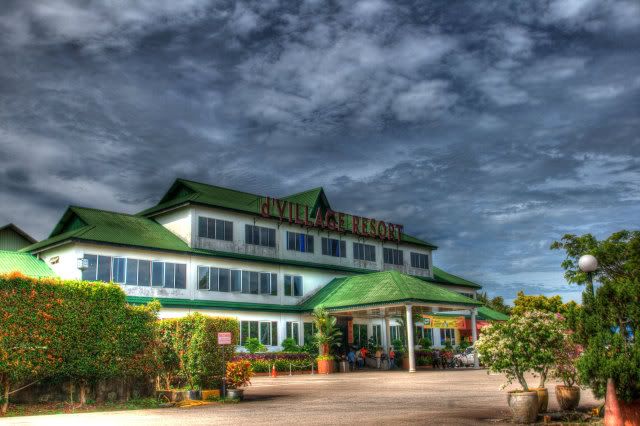 So, alhamdulillah, dewan been booked. Barang hantaran besar2x pn dh beli, vid and photographer dh book. Baju nikah booked, cuma tinggal baju reception je.. and pelamin.. and now saya masuk beberapa contest. Alhamdulillah, dh menang dh 1.. Apa saya dpt dr contest 1st saya join tu are..
Scarf & Veil by Hana Zakaria Scarf Et Cetera | worth RM 200
1 Handbouquet (Fresh Flower) | worth RM 200
20% off untuk Pelamin Resepsi (Rumah ATAU Dewan) | bergantung pada design
Best kan? Sekarang masuk contest from Qarmasutra pulak.. Jangan lupa like tau. Mana tau nak jadi rezeki orang nk kahwin sorg ni kan.. hehehehe.. korang kena like page ni tau! :D
thank you!!!! Muuuuuuuuaaaaaaaaaaaaaaaaaaaaaahhhhhhhhhhhhhhhhhhh!